Windows Mobile Application Development Services
Windows Phone mobile device is recommended for Windows Phone consumer and Windows Phone business applications. The typical Windows Phone applications fall in to lifestyle, social, health and fitness, entertainment, games and tools categories. The last category tools can mean any type of business application or business or personal utility application that could be developed with Windows Phone SDK. Windows Phone SDK comes with many features for example to connect to remote databases, encryption for financial or personal information, networking, audio, video, and Wifi services and much more.
Windows Phone Business and Consumer Applications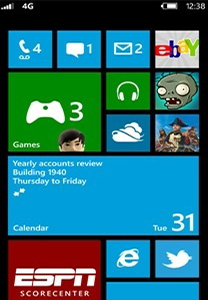 Windows phone platform is mightily suited for serious Windows Phone business application development. The reason being many users prefer to have a cool consumer phone with lot of features that can be used for business purposes. This Phone falls in to this category.
Softwood develops business as well as consumer applications using Microsoft Sliverlight and .NET framework. Any serious Windows Phone business application or Windows Phone consumer application design starts with prototyping of application flow and back and forth discussion on various aspects in terms of functionality, number and type of controls, page transition, look and feel, and usability. Once this prototyping process is finalized, next step is what approach to take for data flow.
Windows Phone Data Storage Approach
Once you know the requirements of your application, you can decide which approach is the best to use. After deciding the data flow approach, Softwood can help you choose the application layout, input handling, sensors and third party integrations like Facebook, Linkedin etc.
Softwood can help in choosing right encryption, implementing web services and integrating with third party service feeds. In addition, if you are looking for advanced UI integration like MVVM architecture, advanced data binding using syndicated feeds, showing progress, lazy load images, or help in using Microsoft advertising SDK, Softwood can help in Windows Phone UI designing, Windows Phone app development, Windows Phone performance tuning and Windows Phone application porting.
If your requirement is to develop Windows Phone mobile website, Softwood can develop using CMS software like Joomla, Wordpress, and Drupal.
Contact us today to know more about our Windows Application development services or to hire our Windows App developers for your needs.