Ecommerce Development Services
We take out the hassles of setting up your own Ecommerce store; we leave your options open and let you decide what is important, setting up your business.
> We render extensive Ecommerce Consulting and Custom Development services by amplifying our solutions with unique Open Source E-commerce modules
> Our Ecommerce professionals are experts in customizing your online store front-end to provide the true corporate elegance to your brands
> We have vast expertise in configuring the back-end as per your requirements
> We can customize your web store front-end such as homepage, online payment modules, image modules,shipping modules, order management and others
E-Commerce Application Development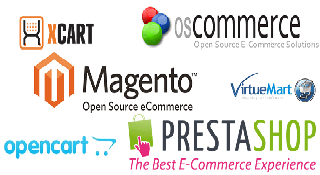 Softwood with its highly trained Ecommerce Developers help you throughout the process right from the installation, modification, documentation, and customized development. Also Softwood together with a band of specialists has a great track record of benefitting many clients with Ecommerce applications. Softwood can develop ecommerce website for you, or work with your existing website according to your requirements. Softwood provides Development,Customization,Module Installation, Custom Programming Services.
At Softwood, we have qualified Ecommerce Designers having experience in Designing Websites, online store layout, website checkout and integration. Our Developers can integrate the layouts with other added store features like similar product display, cross selling, customer testimonials, product ratings and other features according to client requirements. Our proficient team of developers can also configure back-end solutions for Tax, payment gateways, shipping methods, etc. Moreover, our team works efficiently to ensure that our client's ecommerce site enjoys enough traffic and higher rankings through our SEO services.
E-Commerce Development Platforms
> osCommerce
> Magento Cart
> Opencart
> Cube Cart
> Prestoshop
> Zen Cart
> Tomato Cart
> Etc
E-Commerce Development Skill Sets
> Ecommerce Application Installation,Configuration & Customization
> Ecommerce Application Upgrades
> Template Design & Integration
> Templates Customization
> Development & Integration of Client Specific Custom add-ons
> Payment Gateway module development & Integration
> Shipping Module development & Customization
> Discount Coupon Code Module development & Customization
> Product Catalog customization
> Order & Sales customization
> Maintenance work for Ecommerce Portal
> Third Party and APIs Integration
Softwood strives to focus on the customer and deliver solutions designed around their needs as we possess quality osCommerce Developers &Programmers. We have dedicated Ecommerce application development team with extensive experience in Ecommerce module installation and customization with full functional knowledge base to meet the customer expectations with our Offshore Development Center (ODC) services.
Softwood's Ecommerce Developers can re-engineer your existing online ecommerce storefront, upgrade it with new functionalities or offer you a turnkey Ecommerce solutions along with your existing visual design and customized programming. Our expertise and experience in customization, development and extending Ecommerce, will surely help you to create complete web store with usability and functionality.
Contact us today to know more about our Ecommerce open source development services or to hire our developers for your needs.